In a recent interview with WWD, Stylitics CEO, Rohan Deuskar, discussed the importance of a customer-centric approach in today's ultra-competitive market.
One of the biggest untapped assets that retailers have is the customers they have already brought to their site, often at great expense. Getting these customers to explore more categories, look at more products, and ultimately buy an additional item can make the difference between missing your numbers and having a record year. There are several specific moments in the customer journey where a retailer can turn a transactional, discount-driven, 2-minute session into one that is inspiring, fun, personalized, and generates a much larger purchase within the same session.
While this is true throughout the year, it's even more important during sales cycles such as Black Friday & Cyber Monday. Traditionally reserved for the best deals on must-have products, it's a numbers game that assumes discounting is the only path to reaching sales goals.  In recent years however, retailers have felt the impact of competing by increasing discounts, which is causing downward spiral effects on margins.  Shoppers have more tools to find deeper price reductions but at the same time there's been a shift in finding value with a more personalized experience. 
For retailers looking to maximize top of funnel and the value from customer acquisition costs, finding creative ways to encourage their shoppers to build bigger baskets can offset the need for higher discounts. Consumers are more likely to purchase and ultimately build loyalty with retailers that offer a relevant and engaging experience when they arrive at a website, now most often on the Product Landing Page. By tailoring their product experience with coordinating outfit or homeware combinations offers each individual shopper an elevated, on-brand experience that informs as well as inspires on the journey to purchase. 
Here are three tips for making the most out of your assortment on the PLP and helping customers quickly find assortment recommendations on how to style that product.  
Tip #1: Show Value By Visualizing Complementary Sku's
Bring to life a fuller view of the collections and ways to use the product offerings. The customer sees greater value because they see multiple ways to use the product.  Most likely they will convert faster on the original product and at least one of the coordinating items.  We see these examples across many categories of product. In apparel this could mean the right pair of jeans and shoes that are perfect matches for a "Barbiecore" pink top. For home décor, customers want to know which items complete the room – such as a modern coffee table that completes a shopper's new sofa. Showing combinations of products converts higher than the classic "you might also like"  so you have options when planning cyber week promotions such as allowing you to price for multiple purchases so your discount budget works harder. 
Style Better with Stylitics
Mix & Match:
Self-styling is hard, especially online. Mix and Match is an engaging experience that allows shoppers to explore product versatility, increasing their ability to see how easy it is to style items for different occasions and looks. With Mix and Match, every outfit can be created with different combinations to giving the shopper the ideas and confidence they need to complete their purchase.
One major home goods retailers utilized the Stylitics Mix and Match and Mood Board solutions to improve their customer experience and saw great results:
Tip #2: Create Product Landing Pages That Highlight The Value Of Multiple Products
The home page is no longer a guaranteed destination for a customer's visit to a retailer's website. From social media posts on TikTok to Google shopping, shoppers are often arriving on a brand's product pages as opposed to home pages. 
Merchandising teams normally pull products together manually, but with AI-driven image tools like Galleries by Stylitics you can instantly deliver multiple "shops".  This engages the consumer to scroll multiple galleries and helps convert them when they find their style.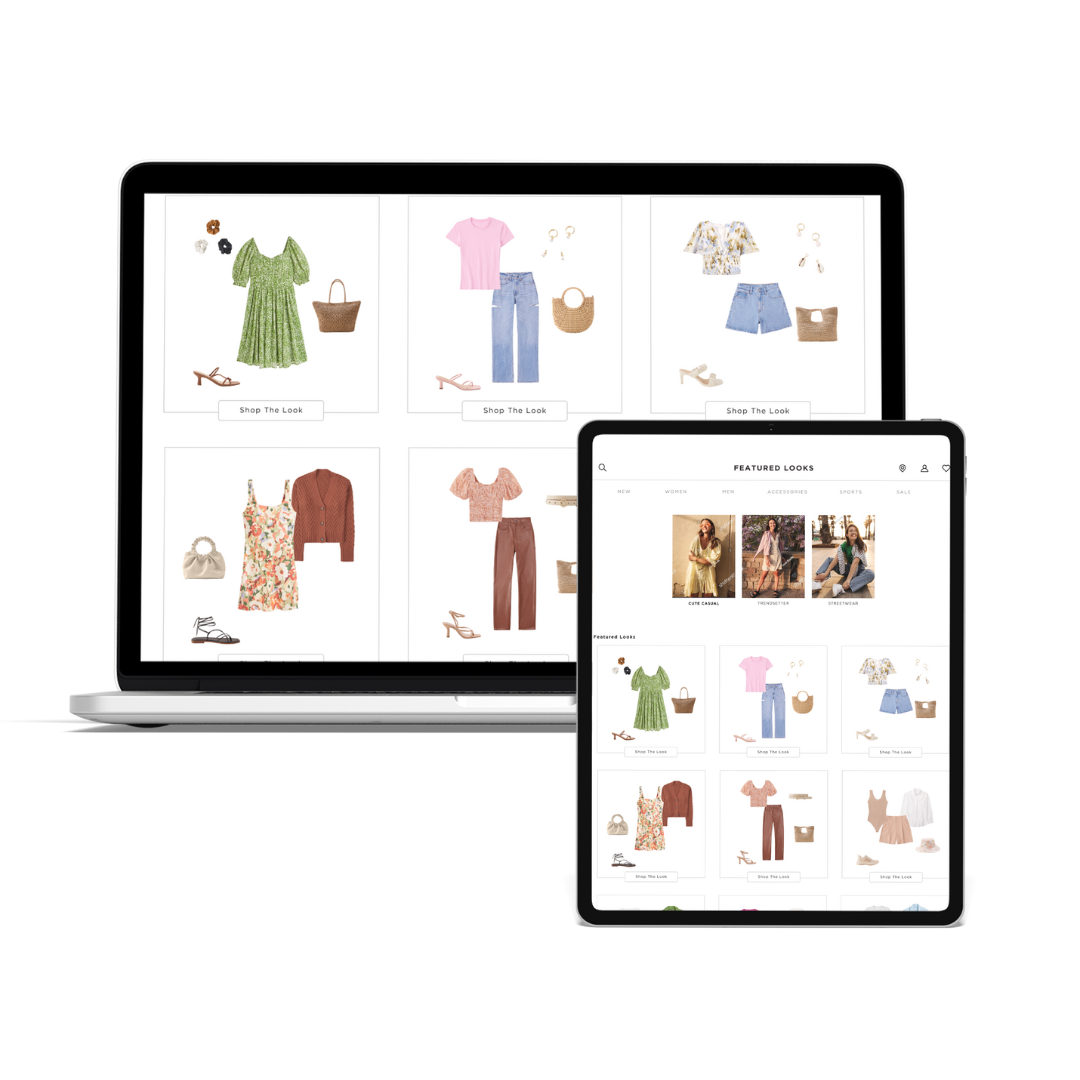 Promote what you want, when you want. Galleries are interactive landing pages that take minutes to create and publish. The speed to market and flexibility of this drop-in experience lets retailers fine-tune and take control over what products to promote at the moment.
Using the Stylitics Gallery Feature, one women's apparel retailer created galleries of coordinated collections with trending products, this drove incredible results:
Tip #3: Inspire Customers To Fall In Love With Your Brand
Endless streams of products can overwhelm your shoppers. Showcase shoppable outfits and collections that encourage customers to explore, discover, and purchase the perfect look for any occasion. Create stories and showcase options. And there is a margin benefit – when you leverage your "collections" you can also combine bestsellers with new styles; in stock items with trendy items. Brands that do this have more ways to share the brand vision for how all the products coordinate.  And Stylitics has solutions to help brands do this at scale, from home to footwear, apparel to accessories. 
By thinking beyond the transactional, retailers are empowered to rethink the typical customer roadmap, from a simple and static PDP to a dynamic and interactive shopping journey that builds bigger shopping baskets and higher margins, something no longer possible by discounts alone.
Want to turn that client's success story into yours? Find out how to get an edge this holiday season with actionable insights and industry data? Join us on June 15th for a FREE Webinar. Sign up today!